Indian Entrepreneurs have made us proud by their awards, acts of kindness, degrees and culture, but also made India a laughing stock to the world by their blunders and unholy acts
India is a land of paradoxes. It has had people, cultures and events of which it is proud of till date. It has also had some tainted 'netas' or leaders, lots of crimes especially against women and some unholy culture like 'dadagiri', 'bribe' and corruption of which we need to be ashamed of as Indians. In this context let us talk about a few Indian entrepreneurs. Some of them have made us Indians proud by their awards, acts of kindness, degrees and culture while others have made India a laughing stock to the world by their blunders and unholy acts.
Ratan Tata
Ratan Naval Tata was born 28th December 1937. He is a businessman, investor, philanthropist and chairman emeritus of Tata Sons. He was the chairman of Tata Group, a Mumbai-based global business conglomerate from 1991 till 2012 and continues to head its charitable trusts. Ratan Tata is the son of Naval Tata, who was adopted from J. N. Petit Parsi orphanage by Navajbai Tata. His parents Naval and Sonoo Tata had divorced in the mid-1940s when he was ten and his younger brother, Jimmy, was seven years old. Both he and his brother were raised by their grandmother Mrs. Navajbai Tata. After they divorced, Mr. Naval Tata was married, for the second time, to Ms. Simone and they had a son called Noel Tata who became Mr. Ratan Tata's half-brother. Mr. Ratan Tata did his schooling in Mumbai, at the Campion School and later at the Cathedral and John Connon School, for secondary education. He did B.S. in architecture with specialization in Structural engineering from Cornell University in 1962 and the Advanced Management Program from Harvard Business School in 1975.
Mr. Tata began his career in the Tata group in 1961. He started on the floor of Tata Steel, shoveling limestone and handling the blast furnace. In 1991, J. R. D. Tata resigned as the chairman of Tata Sons, naming Mr. Ratan Tata as his successor. He began replacing the aging staff of the Tata group by setting a retirement age and then made individual companies in the group, report operationally to the group office and made each company contribute some of its profit to build and use the Tata group brand. Innovation was given top priority and young talents were recruited and given responsibilities.  Under his leadership, individual companies were combined into a synergized whole. During the 21 years in which he led the Tata group, revenues grew to 40 times the original amount and profits grew by 50 times the original amount.
The Tata Company became a multi-national company operating in over 100 countries with plethora of brands under its belt like Tata tea, Tata Motors, Tata Computer Solutions (TCS), Tata salt etcetera. He boldly got Tata Tea to acquire Tetley tea, Tata Motors to acquire Jaguar Land Rover and Tata Steel to acquired Corus in the year 2000. He conceptualized the 'Nano' car and started its manufacture in the year 2008. During its launch, the 'Nano' car was the cheapest available commercial car in India with a selling price of just Rs. 1,00,000/-. It became an instant hit with the middle and lower middle class of India not only for its price but also for its accident safety standards, its spaciousness and the 'quietness' of its rear engine. It is said to have sold over 2 million units so far.
Mr. Ratan Tata is the chairman of the Taj Mahal Hotel in Mumbai, which was the target of the terrorists on 26/11/2008. He is known for his kindness and humanity apart from for his success in business. What he did for 26/11 victims is really touching and phenomenal! All category of employees including those who had completed even a day as trainees were treated on duty during the time in which the hotel was closed. Relief and assistance was provided to all those who were injured or killed in the blast. The relief and assistance was even extended to all those who were injured at the railway station surroundings including the 'Pav- Bhaji' vendors and the pan shop owners.
The thoughts and anxieties going on in the people's minds were constantly monitored and psychological help was provided. Mr. Ratan Tata personally visited the families of all the 80 employees who in some manner – either injured or who were killed – were affected. The dependents, of those employees who had died in the blast, were flown from outside Mumbai to Mumbai and taken care off by providing psychological support and peace. They were all accommodated in Hotel President for three weeks. Mr. Ratan Tata personally asked the families and dependents as to what they wanted him to do. A 4-year-old granddaughter of a vendor got 4 bullets in her body but only one was removed in a government hospital. She was then taken to the Bombay hospital and several lakhs of Rupees were spent by the Tatas to fully recover her and last but certainly not the least, even other people, the railway employees, the police staff and the pedestrians who had nothing to do with the Tatas were covered by compensations. Each one of them was given an allowance of Rs. 10,000/- for six months! We Indians are definitely proud of Mr. Ratan Tata's humanity.
Varghese Kurien
Born on 26 November 1921 and passed away on 9 September 2012. He is known as the Father of White Revolution in India. He is known for his operation Flood, the world's largest agricultural development program which transformed India from a milk-deficient nation to the world's largest producer of milk, surpassing the United States of America in 1998. India produced 17% of the world's milk in the year 2010. Dairy farming became India's largest self-sustaining industry.
Mr. Kurien was responsible for the founding and success of the Amul brand of dairy products in India. A key achievement of Amul is the invention of milk powder processed from buffalo-milk as opposed to that made from cow-milk. Mr. Kurien lifted millions of people out of poverty in India. He did his schooling at Diamond Jubilee Higher Secondary School in Gobichettipalayam while his father worked as a civil surgeon at Gobichettipalayam Government Hospital. He graduated in Physics from the Loyola College in Chennai in 1940 and then obtained his Bachelors in Mechanical engineering from the College of Engineering, Guindy affiliated to the University of Madras. Mr. Kurien disliked meddling from the political class or bureaucrats though he and his mentor Tribhuvandas Patel were backed by a few political leaders and bureaucrats who saw merit in their pioneering cooperative model.
Mr. Patel's efforts and the trust placed in him by farmers, inspired Mr. Kurien to dedicate himself to founding and establishing the Amul Company. The then Prime Minister of India, Jawaharlal Nehru inaugurated Amul's plant and embraced Mr. Kurien for his groundbreaking work. Later research done by Dr. G. H. Wilster led to cheese production from buffalo milk at Amul. Within just a few years, Mr. Kurien overtook established competitors like Aarey dairy of the Bombay Milk and Polson Dairy with a little aid from UNICEF. Mr. Kurien established the Gujarat Co-operative Milk Manufacturers Federation (GCMMF) in 1973 to sell the combined produce of all the dairies under a single Amul brand. He quit the post of chairman of GCMMF in 2006 due to a disagreement with the management. Mr. Varghese married Molly and they had one daughter, Nirmala Kurien. Mr. Kurien is the author of three books: I Too Had a Dream published by APH Publishing Corp, An Unfinished Dream published by Tata-McGraw-Hill and The Man Who Made The Elephant Dance published by Tata-McGraw-Hill. Mr. Kurien is definitely a notable and respectable figure among Indian entrepreneurs.
Vijay Mallya
Born on born 18th December, 1955. He was an Indian businessman and politician. He resigned as a member of the Rajya Sabha in May 2016. He is the son of businessman, Vittal Mallya, and the ex-chairman of United Spirits Ltd, the largest spirits company in India and continues to serve as Chairman of the UB Group, an Indian conglomerate with interests in beverage alcohol, aviation infrastructure, real estate and fertilizers. Once called the 'King of Good Times' due to his extravagant lifestyle, Mr. Mallya and his companies have been embroiled in financial scandals and controversies since 2012.
Mr. Mallya had gifted his son, Siddharth Mallya, the business of Kingfisher Airlines on his 18th birthday for which Mr. Mallya had borrowed Rs. 9000 crores as loans from different banks including SBI. Unfortunately, due to lack of interest, knowledge and experience from Siddharth Mallya, Kingfisher airlines was soon running at a huge loss and Siddharth Mallya was even accused of making Kingfisher calendars with nude pictures of models at such a time. Buying all the aircrafts for Kingfisher instead of leasing them proved costly as they were difficult and costly to maintain and was one of the factors that led to the downfall of Kingfisher airlines. When the airlines was running at a loss, its staff were not paid for months, which led to agitation by the staff, defamation of the airlines by the media and fear of safety among its passengers which contributed immensely to the airline's downfall.
Mr. Mallya left India and 'fled' to London on the 2nd of March 2016 raising speculation that he must have been tipped about the banks' impending move to keep him under 'house arrest' until he pays the complete loan amount. He defended himself by saying that he went to London to be 'closer' to his grandchildren. Investigation agencies, such as the Income Tax Department and the Central Bureau of Investigation have accused Mr. Mallya for financial fraud and money laundering and the Attorney General of India even said that Mr. Mallya's assets abroad are 'far in excess to the loans taken by him'. The Enforcement Directorate of India filed a money laundering case against him in March 2016 for allegedly sending abroad ₹9000 crores (US$130 million) that had been loaned to his airlines. On 24 April 2016, the Ministry of External Affairs of India had revoked Mr. Mallya's passport and he resigned from the Rajya Sabha on 2 May 2016, the day before the Ethics Committee of the Rajya Sabha was prepared to recommend his expulsion.Currently the Enforcement Directorate is seeking an Interpol to issue an international arrest warrant against Mr. Mallya.
Mr. Mallya also co-owns the Formula One team Sahara Force India, the Indian Premier League (IPL) team Royal Challengers Bangalore (RCB), the I-League teams Mohan Bagan AC and the East Bengal FC. He is also a member of the World Motor Sport Council, representing India in the FIA.  Vijay Mallya was educated at La Martinière Calcutta, where he was appointed the House Captain of the Hastings house in his final year, and at St Xavier's College, Calcutta, where he graduated with a Bachelor of Commerce degree (with honors) in 1976.
Mr. Mallya met and married Sameera Tyabjee in 1986, who was an air hostess of Air India. They have one son, Siddharth Mallya, who was born on 7 May 1987.  They got divorced shortly afterwards.  In June 1993, Mr. Mallya had married his current wife Mrs. Rekha, whom he had known since childhood and together they have two daughters, Leanna and Tanya. Mrs. Rekha had already been married twice and also has a daughter and a son named Leila and Kabir respectively from her previous marriages. Mr. Mallya has adopted Rekha's daughter, Leila. In 2012, Mr. Mallya had handed over management control of United Spirits Limited (USL) to global spirits giant Diageo, although he retained a minority stake in the business. In February 2015, Mr. Mallya was forced to resign as the Chairman of United Spirits and he contracted to receive a $75 million severance payment as part of that deal, but the courts in India have blocked that payment. Mr. Mallya is accused of being a 'willful defaulter' under the Indian law. There were allegations of him transferring ₹4,000 crores (US$590 million) to tax havens.
Vijay Mallya is noted for his successful bidding in the auction of items that are considered to be of great historical value to India. In 2004, he placed the winning bid of £175,000 for the sword of Tipu Sultan at an auction in London, and brought it back to India. He also bought 30 other items owned by Tipu Sultan from auction houses in the UK, including a cannon, other weapons and personal items which belonged to the King. In March 2009, Mr. Mallya had successfully bid for the belongings of Mahatma Gandhi for US$1.8 million, in a New York auction that initially caused uproar in India. One of Vijay Mallya's 'Kingfisher calendar' girls, who fell out of favor, revealed the unbounded nature of his parties. "There is booze flowing from taps, girls roam around half-naked, desperate to catch the attention of Dr. Mallya. Modeling contracts are agreed upon, favors given. This is also a place where Vijay Mallya invariably takes liking to some girl. That girl is a lucky girl because she enjoys special attention and gets lucrative modeling contracts."
Mr. Mallya may be a good father to his children due to his 'loving' nature and may have made India proud at historical auctions, like the one in London. But for the most part he has made India, a laughing stock to the world due to his blunders in business and un-thought-of extravagant lifestyle.
Dayanidhi Maran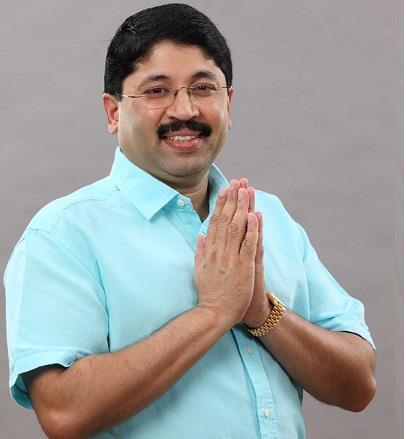 was born on 5 December, 1966 in the town of Kumbakonam in the Tanjavur district of Tamil Nadu, India. He is a politician and one of the prominent members of Dravida Munnetra Kazhagam (DMK) party. He was elected twice as a Member of Parliament (MP) to India's Lok Sabha from Chennai Central constituency during the 2004 general elections and 2009 general elections. During the period from 2004 to 2007, he served as the Minister for Communications and Information Technology in the Union Cabinet. He resigned from the post due to Dinakaran attack case in May 2007.
He is the son of Mr. Murasoli Maran and the grandnephew of the DMK president Mr. M Karunanidhi. He is also the younger brother of Kalanidhi Maran. He is the founder and managing director of Sun Network. Dayanidhi Maran's vast media and entertainment empire comprises of Sun TV network with 20 channels and 45 FM channels, DTH service, two newspapers and four magazines apart from film production and distribution business and aviation business through Spice Jet. He is married to Priya and has a daughter and a son. Mr. Maran has good exposure in the fields of media, television, cable technology, political economy and management as he attends seminars and conferences in various countries.
In May 2007, Dinakaran, the newspaper run by Kalanidhi Maran, the elder brother of Dayanidhi Maran, ran into a controversy when it published the results of  series of opinion polls which showed M. K. Stalin, the second son of Karunandhi, having more chance (70%) than his elder brother M. K. Azhagiri (2%) as the political heir of Karunanidhi. The Madurai office of Dinakaran was fire bombed by supporters of Azhagiri and three employees were killed. The Sun TV office in Madurai was also attacked by supporters of Azhagiri. A day after the incident, the then Prime Minister of India, Manmohan Singh and the Congress party president, Sonia Gandhi came to Chennai to felicitate Karunanidhi for 50 years in legislative assembly (50 years as an MLA). Daynaidhi Maran, who usually accompanies Karunanidhi at every function, did not attend the event as a mark of protest on the attack. On 13 May 2007, the DMK administrative committee empowered Karunanidhi to remove Dayanidhi Maran from the party. So he resigned from the central ministry. Karunanidhi's family then founded Kalaignar TV to counter Sun TV. By then, opposition party leaders were furiously accusing Azhagiri for the attack on Dinakaran newspaper's office and on Sun TV's office in Madurai. They were also criticizing A. Raja, a tainted politician in the 2G scam, replacing Dayanidhi Maran at the Union cabinet. There were several attempts to reconcile by the Marans, with two public meetings: once during Stalin's birthday in March 2008 and the other in May when Karunanidhi was discharged from a Chennai hospital after having been treated for neck and back pain. But when the Marans went to greet Karunanidhi on his 85th birthday on 3rd June 2008, they were made to wait for an hour before being finally denied entry.
The family later reconciled with the efforts of Selvi, the eldest daughter of Karunanidhi. While the reason for reconciliation is not known, it was rumored that the family reconciled to keep the third wife, Rajathi and her daughter Kanimozhi away from the family. The fact that that Kanimozhi was missing in the family reunion picture supports this argument. Maran has been charged with theft of telephone lines from BSNL.
According to the CBI, he mis-utilized 323 telephone connections of BSNL during his tenure as the Telecom minister, and caused the Government of India a huge loss. It is alleged that he extended these connections from his house in Boat Club, Adyar, to his brother's Sun TV channel office located in Anna Arivalayam in Teynampet.
Maran has been accused of demanding the Tatas 33.33% shares from the Tata-Rupert Murdoch DTH project (Tata Sky) for the Sun Network. He also demanded the newspapers, which had publicized the issue, to apologize and threatened to go to court seeking a compensation of Rs. 1 crore for personality damage done by them. (The New Indian Express, Dinamani and Jaya TV). Mr. Maran is also accused of helping the Malaysian firm, Maxis Group, owned by the Kuala Lumpur-based business tycoon, T Ananda Krishnan by coercing the Chennai-based telecom promoter, C Sivasankaran to sell his stake in Aircel to Maxis in 2006. The CBI had filed a case against him on July 2012 for this act stating that he had misused his powers as the Telecom minister. This deal is believed to have fetched him around Rs 5000 crores!
There is no doubt that Mr. Dayanidhi Maran is a tainted politician and an entrepreneur who has brought shame to India by his unlawful and immoral acts.